ABOUT LAKESHORE TOOL AND EQUIPMENT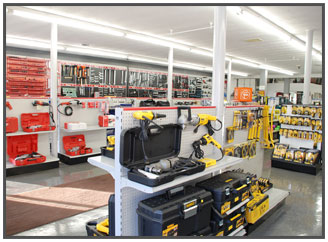 Lakeshore Tool and Equipment started out in a garage, selling automotive equipment. Throughout the years, we eventually worked our way into the industrial field, then onto commercial and residential supplies. We bought a store and incorporated in the 80's and have had two major additions since. We pride ourselves on our customer service and retention rate, as some of our clients have been coming to us for over 30 years.

Myself, Tim Hartsel Senior along with my wife Nancy Hartsel are the proud owners of Lakeshore Tool and Equipment. Our son, Tim Junior is vice president and runs daily operations. More of our staff includes Michele Hartsel - Secretary & Inventory Control, Jeff Hartsel - Sales/ Repairs, and Patty Mick - Bookkeeping, and Ken Jones - Warehouse. In summer and holiday hours, we are accompanied with the help of Nate, Andrew and Austin Hartsel who are a wonderful addition. Our family really strives to provide the best tools and equipment, and gives the best customer service. Catering to all industries and spanning all fields, a comparison to Lakeshore Tool and Equipment is hard to find. Stop in today and discover what makes us the right choice for all your tool needs.
Please call us at (440) 277-7898 for more information regarding our products and services.